BetOnline Sportsbook Info

We would like to welcome you to the review of one of our all-time favorite sportsbooks, BetOnline. You have played at the rest, now play at the best. This is one of those sites that you have probably read about or seen if you have ever done an internet search for U.S. online sportsbooks. That is because BetOnline has a phenomenal reputation and a prestigious record of accomplishment. For almost two decades, this site has been serving up the greatest sports wagering action in the world.
This page is going to explain to you how BetOnline is able to function legally for U.S. residents, as well as the safety features that the site uses. You will also learn how to sign up, make deposits and payouts, and get free money with the amazing bonuses that BetOnline offers. We will also tell you about mobile and live betting, two of the newest and most exciting ways to wager.
Is BetOnline's Sportsbook Legal?
The quick and truthful answer to this question is yes, but for the sake of your comfort, we will go in to a little more detail to assuage any doubts. In order for a sports betting site for U.S. players to function, it must follow certain rules that are laid out by the federal betting laws that regulate sports wagering for our nation. There are two main laws to look at, the Wire Act and the UIGEA.
The Wire Act was originally intended to get rid of organized crime involved with gambling in America. The Act actually did a pretty good job of this by criminalizing the use of wire communication devices to send betting information between states. This crippled one of the mafia's most powerful tools for money laundering. These days the Wire Act is much less relevant, and the only stipulation that remains is that sports wagering sites cannot send information between states. This is not a problem for BetOnline because they are located outside the US, in the Republic of Panama. As long as a site functions overseas, it is not affected by the Wire Act, and can therefore serve US players from any state.
The Unlawful Internet Gambling Enforcement Act of 2006 is a law that directly ties to online wagering. In BetOnline's case, the UIGEA only applies to funding methods. The law states that US sports wagering sites cannot send funds directly to a credit card. How do I receive my winnings then? You may ask. The answer is simple: numerous ways! BetOnline and similar overseas sites offer a plethora of fast and efficient payout methods that will get you your money safe and fast. We will go over these methods later in this article. If you would like to learn more about the laws that regulate online sports betting, check out our federal and state sports betting law pages.
States Accepted At BetOnline Sportsbook - Who Can Join BetOnline?
BetOnline is available to players from all fifty states in the nation. Since the site functions overseas, neither the Wire Act or any of the individual state laws apply, and therefore the site can serve anyone. When becoming a member of BetOnline, you will be joining millions of other American sports fans that visit the site daily. Some sites do not accept players from all fifty states, which is another reason we choose BetOnline over most of the competition.
Registration Process: How To Sign Up For A BetOnline Sports Betting Account
Joining BetOnline is simple and fast. Navigate to the big "click to join" button on the front page, and you will be taken to a new page. Here you will enter some relevant contact information, create a password, and supply a valid email address. After filling out this short form, the site will send you a confirmation email. Click on the link in this email and you will be taken back to the site to login. Congratulations, you are now a full-fledged member of BetOnline.
Other Features: BetOnline Sportsbook Deposits, Payouts, Bonuses, Sports & More...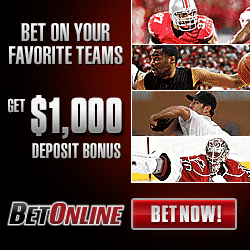 Now that you are aware of how BetOnline functions legally and safely, and know how to sign up, it is time to take a look at the features that make this site stand out from the herd. Every USA sports betting site worth its salt have features similar to these, but all sites present them differently. For instance, every online sportsbook will have deposit and payout methods, but some offer a few, while others offer loads of options. Let's take a look at the nitty gritty stuff that makes BetOnline special.
Sportsbook Deposits: Funding BetOnline Sportsbook Accounts
After signing up and exploring the beautiful site, you will eventually want to start wagering real money. Making an initial deposit is the first step towards making money, so this is where the fun begins. You may be wondering why sports wagering sites can't just take and add money directly from your bank account. This is because the UIGEA has regulations about funding methods, but it doesn't mean there are a lack of great options. In fact, you can deposit with a credit/debit card because you are not using the money to wager directly. Instead, you are buying "points" or "chips", much like you would in a real casino. You can then use these chips to wager, and when you cash out the site will turn those chips in to cold hard cash.
BetOnline offers many great alternative deposit methods to credit/debit cards as well. You will find MoneyGram, Western Union, money orders, bank wire transfers, checks, bitcoin, and more. All of these methods have differing speeds, fees, and limits. You can read all about the various deposit methods, as well as the limitations of each option at our online sportsbook deposits page.
Sportsbook Withdrawals: Getting Money Out Of BetOnline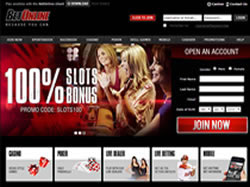 Arguably, the most important parts of a U.S. online sportsbook are the withdrawal methods. We are talking about the way in which you collect your hard-earned cash. Luckily, BetOnline provides a slew of excellent payout methods. As we mentioned before, the UIGEA restricts them from sending money directly to your credit card account, but this is only a minor hindrance. There are plenty of methods here that please all of BetOnline's customers.
Check out the online cashier and you will find many options, including Western Union, MoneyGram, checks, bank wire transfers, bitcoin and more. Believe it or not, the good old-fashioned check in the mail is the most popular payout method. This is because checks are very reliable, fun to receive, and most sites offer one free check payout per month. As with deposits, each payout method comes with varying speeds, fees, and limits. Check out the BetOnline's online cashier to pick the method that is right for you. You can also check out our lengthy legal online sportsbook payouts page to learn much more.
BetOnline Sportsbook Bonuses & Other Perks
BetOnline continues to amaze us with the variety of extras and promotions that they come up with seemingly every week. Most sites would go broke offering the kind of generous bonuses that BetOnline do, but this site know that members come for more than just the rewards. You will find welcome bonuses that can add up to $1,000 in sports free plays to your account. These work by sending in a promo code along with your first deposit, and give you a great head start on your sports betting path. Reload bonuses work much the same way as welcome bonuses, but they keep on making you money throughout your BetOnline career. Every qualifying deposit is subject to a reload bonus, which can add 25% to each deposit.
Beyond the welcome and reload bonuses, you will also find live betting free plays, mobile bonuses, dime lines, refer-a-friend and more. There is no end to the extra dough you can acquire when playing at BetOnline and this is one of the reasons players keep on coming back for more. Check out our online sportsbook bonuses page to learn much more.
Mobile Betting Access: BetOnline Supports iOS, Android, Blackberry, Windows & More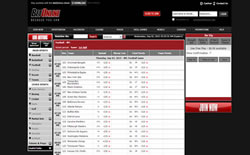 The future is now at BetOnline, where you can take the entire sportsbook on the road with you. This convenient feature allows you to place wagers on your favorite games from your Android, iPhone, Tablet, or any other device that connects to the internet. This means that you will never have to miss a game because you were stuck in line at the grocery store, or on vacation away from your computer. Not only can you place bets on your mobile device, you can also make deposits, request payouts, and manage your entire account. Check out our mobile sports betting page to learn much more about mobile betting.
Live Sports Betting: Wager On Sports In Real Time At BetOnline
Have you ever been late to wager on your favorite team? Alternatively, how about you wager on time, but the odds take a sharp turn in the 2nd half and you wish you could put money on the shift. Well, now with BetOnline's live/in-game betting these problems are nonexistent. The live sportsbook allows you to wager on a game as it is happening, and you can watch the odds update in real-time right in front of your eyes. You can also jump into the sportsbook mid-game and place wagers on everything from the chances of a foul ball to whether an injury will happen. With live betting you are in the game, and this is definitely the most exciting way to bet.
THE VERDICT: BetOnline Sportsbook Gets 9.5 of 10 Stars!
As you have read, there are so many features that make the BetOnline sports betting site great. We have barely scratched the surface with this review, and we highly recommend that you go and check the site out for yourself. In this review, you have learned that BetOnline functions within the bounds of the laws that regulate online sports betting sites for US players, as well as the safety protocols that are in place. You now know something about the funding methods and features as well. If you would like to learn any more information about legal USA sportsbooks, feel free to visit our other pages. For now, we urge you to check out BetOnline, as you will not find a better wagering experience anywhere.