SportsBetting Sportsbook Review

Have you ever watched ESPN and seen them talking about your team being favored by 4 points and you are sure they'll win by more but you think there is nothing you can do about it because you don't live in Las Vegas? That's a thing of the past with SportsBetting.ag. This site is a fully functioning online sportsbook accepting U.S. players and is our pick for the best one out there. In this review, we will show you why you need to make SportsBetting your new wagering home. We will talk about the laws concerning online wagering as well as the many great features of this site.
You will learn about the deposit and payout options and the bonuses that they offer to new and existing members. We will also touch on their mobile site options and live in game wagering which will take your betting experience to a new level. Our hope is that by the end of this review you will be as excited about SportsBetting as we are.
Is SportsBetting's Sportsbook Legal?
Fortunately for the millions who have called SportsBetting home for over a decade the answer is a resounding YES! There are certain laws that govern online sportsbooks and SportsBetting is compliant with all of them. We will go through a couple of the laws that deal with online sportsbooks and show you that this is site is fully compliant.
Wire Act – The Federal Wire Act of 1961 is a law that has been around for a half century and yet still affects online sportsbooks. Because of the Wire Act online sportsbooks must be legally operating in their own countries and physically located outside of the U.S. SportsBetting is legally functioning in its home country of the Republic of Panama and is therefore compliant with this law.
UIGEA – The Unlawful Internet Gambling Enforcement Act of 2006 is a piece of legislation that passed at the last minute and was tacked onto an unrelated bill. UIGEA requires modification of funding methods for sports betting sites. Sportsbooks can no longer payout winnings directly to their player's credit cards. SportsBetting has many funding options that do not violate this law so there is nothing to worry about here.
Learn More: Federal Sports Betting Laws
States Accepted At SportsBetting Sportsbook - Who Can Join SportsBetting?
There are four states that allow land-based sportsbooks; these are Nevada, Oregon, Montana, and Delaware. With SportsBetting, you don't have to worry if you aren't from any of these states as they accept players from all 50 states. The only requirement to join this online sportsbook is that you are over 18 years of age. That is the site's requirement but there are certain states that require a bettor to be 21 so you will want to check out your state sports betting laws to make sure you are compliant. If it says 21 then you will need to wait until 21 to be legally wagering on this site.
Other Features: SportsBetting Sportsbook Deposits, Payouts, Bonuses, Sports & More...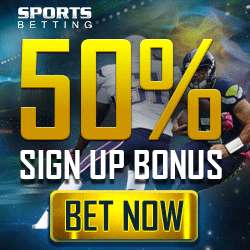 When searching for an online sportsbook there are certain things you should be on the lookout for. How quickly do they payout your winnings? How quickly is your money deposited? Do they have a mobile site? How about live betting? Do you have the option to place in game wagers? We will show you that SportsBetting has the fastest deposit/payout methods in the industry. They also have an amazing mobile site and live in game wagering.
Sportsbook Deposits: Funding SportsBetting Sportsbook Accounts
You might have thought about signing up at a sportsbook before but weren't sure about the safety of your online sportsbook deposits, or how long it would take your account to get credited. SportsBetting has the most deposit options available and their speed is unmatched. As we mentioned earlier UIGEA forced changes in the funding methods for online sportsbooks. You can use credit cards, Person-to-Person, such as Western Union or MoneyGram, money orders, Bank wire transfers, Bitcoin, and other options to fund your account. The speeds vary based on which method you use so you'll want to check out the cashier section to see all of your options.
Sportsbook Withdrawals: Getting Money Out Of SportsBetting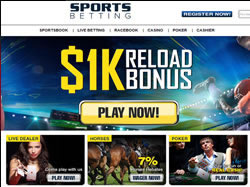 If you make a pile of cash and want to get your money, you'll want it as quickly as possible. SportsBetting has many options to payout your funds. Because of UIGEA they cannot deposit directly onto your credit or debit card, but don't worry as this site has some of the best online sportsbook payout methods available. These include checks, Person-to-Person, bank wire transfers, bitcoin, and more. There are different fees associated with some of these methods and there are different limits with each type so checkout the site for more info. You can also checkout our payouts page for more in depth coverage.
SportsBetting Sportsbook Bonuses & Other Perks
Wouldn't it be nice if your favorite electronics store gave you free money to buy anything in the store? It's not going to happen, but that is exactly what you get when you sign up at SportsBetting. They will give you a welcome bonus of 50% of your first sports betting site deposit. This can be up to $500 in free cash to wager how you would like. Imagine hitting a big score using someone else's money. That's what you have a chance to do at SportsBetting. That's not your only free money with site. They have a "bonus for life" that adds 25% into your account up to $1,000 every time you make a qualifying deposit. Learn more at our online sportsbook bonuses page.
Mobile Betting Access: SportsBetting Supports iOS, Android, Blackberry, Windows & More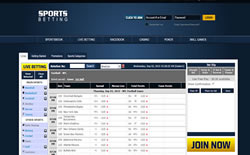 Sometimes you have a rough day and want to head to a local sports bar to have a drink. The problem is that you want to place your bets and don't want to leave home so you can access your site on the computer. That is not a problem with SportsBetting since you can use their mobile sports betting site to make all of your wagers while you sit and enjoy a beer. As long as you have an internet-connected device, you are set. You can use an iPhone or Android device and access the whole site. Place wagers or even try your hand at live in game betting. Learn more about mobile betting on our mobile betting page.
Live Sports Betting: Wager On Sports In Real Time At SportsBetting
With SportsBetting's live in game betting you no longer have to wait until the game is over to make a bet, or catch the game before it starts to place a bet. Live betting is a thrilling way to enjoy all of the aspects of a game. Sportsbetting updates the odds as the action changes so you can make wagers throughout the contest. Did Kobe just hit a couple threes? The odds probably changed in favor of the Lakers, so if you still think the Jazz will win you will get a higher payout for sticking with your team. This really does put you right in the middle of the action. You can find out more on our live betting page.
THE VERDICT: SportsBetting Sportsbook Gets 9.5 of 10 Stars!
SportsBetting is the best site out there for online sportsbooks that serve USA players. We know that once you try it you will make it your legal USA sportsbook of choice. You can get your money in your account faster than other sites and have more payout options than any other sportsbook. They take members from all 50 states and have great bonuses for both your initial deposit and all your subsequent reloads as well. They have a great mobile so that you can feel like you are in Vegas while you are sitting in your backyard. The live betting option lets you get involved in your games and gives you so many more opportunities to wager, so check out Sports Betting today and you'll thank us for the tip.